Our History
Founded in 2015, Greenway Biotech is mainly engaged in the production and sales of cosmetic ingredients nad nutrition supplements. All of our products comply with GMP standard, meanwhile our factories has passed ISO 9001:2015 quality system certification and ISO 14001:2015 environment system certification, so it allows us to deliver your order quickly based on high quality and reasonable price. Now we have developed more than 300 products which have been exproted to the U.S., Europe, Australia and other 10 countries and regions.


Our Factory
Greenway Biotech, located in the Suzhou, China, is a premium cosmetc ingredients and nutrition supplements manufacturer. We have a well-equipped lab with experienced formulators and aestheticians, ready to work with you to create custom products that inspire you and your customers. Our commitment to health and sustainable beauty means that your products will stand out from the competition. We focus on quality, sustainability, and science-backed formulas to create effective clean beauty.
Our Product
We have a huge array of ingredients for cosmetic and nutritional products, reasonably priced and of premium quality. We are rigorous in our sourcing and find the most sustainable and high quality products available.
Product Application
From Skin and hair care to body health. Our mission is simple; enable people to look and feel amazing by combining plant-based nutrients with modern science. Greenway only sources the highest quality ingredients from around the world, while utilizing advancements in extraction technology to ensure the highest possible potency in every botanical product.
Our Certificate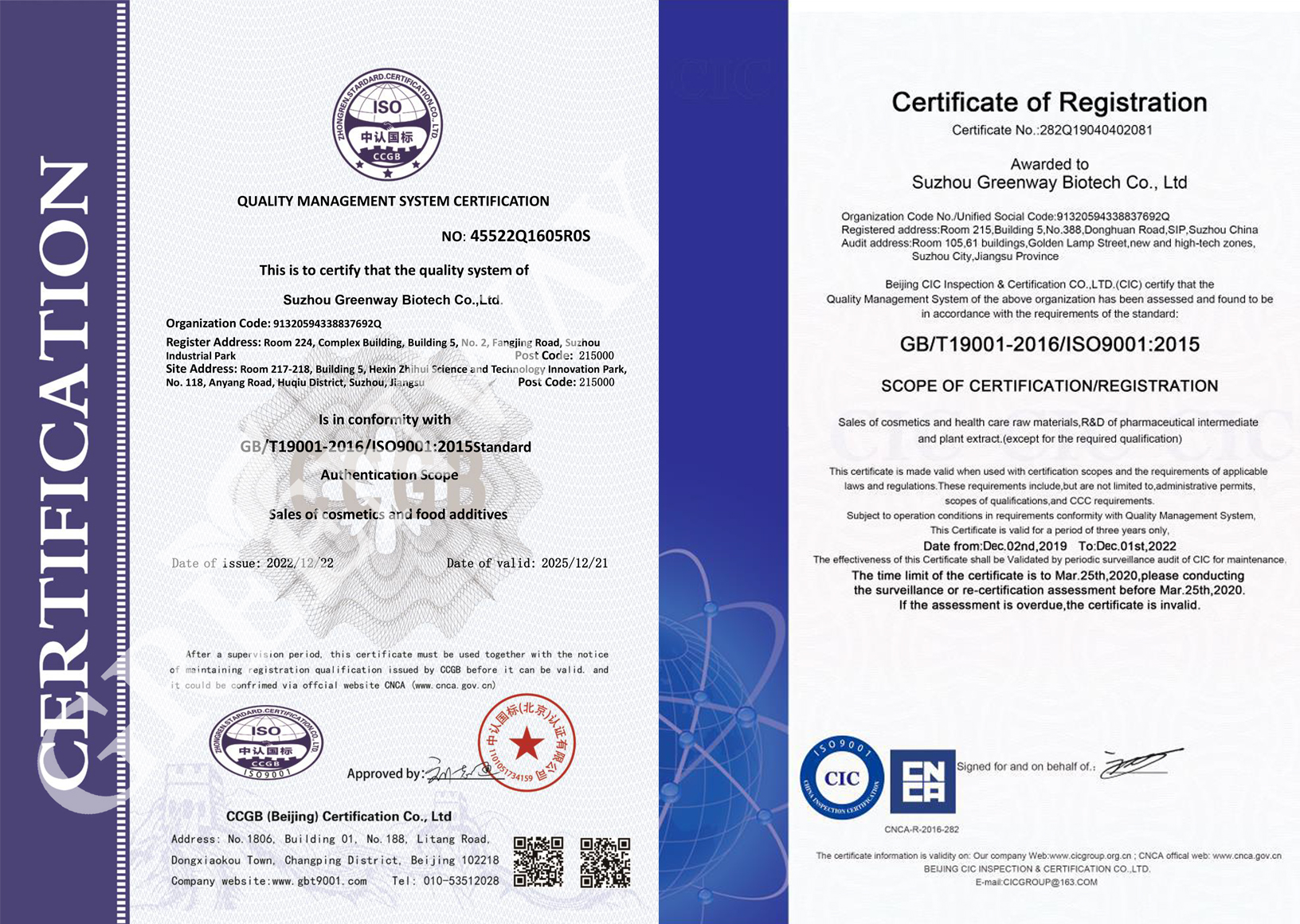 Our operations are ISO 22000:2015 & ISO 9001:2015 certified by the CIC, one of the largest industrial testing and certification companies in China. ISO 9001 certification is a complete quality management system that has strict guidelines for the production, repackaging, control, storage and shipment of cosmetic ingredients, products and raw materials.ISO 22000 is a Food Safety Management System that can be applied to any organization in the food chain, farm to fork. ISO certification is a company-wide way of doing business for Greenway Biotch and a continuous commitment for quality improvement putting the customer's needs for a capable wholesale cosmetic ingredient supplier at the center of all we do.
Production Equipment
In order to meet the highest regulatory standards, we have a professional QA&QC team and all manufacturing facilities are located in the China and are compliant with the cGMP regulations as stipulated by the FDA.
Our Service
From our raw materials, to our manufacturing process and packaging procedures, we are committed to providing you with a high quality product and experience.
One of the unique qualities of our business is our ability to work individually with each of our clients to ensure customer satisfaction. Should you have questions about a product you have ordered, you can feel free to contact us via email, phone or fax. We will do our utmost to ensure that each request is handled with the greatest care.